Introduction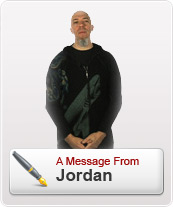 Important Note
To ensure fast and smooth playback of the videos found on this site, please download the latest version of Flash.

Welcome To The Online Conservatory
What does a world class keyboardist musician do when asked by people all around the globe for "private" lessons?
Here is your answer.
The OC is a wealth of musical material presented in an accessible format that you can learn from and enjoy. For keyboardists, you will find lessons for everything from basic music fundamentals, to advanced exercises that Jordan has personally developed over the years. The OC's topics include:
Harmony
Rhythm
Pitch-wheel/joystick technique
Improvisation
Ear Training
Independence of the hands
For non-keyboardists, you will find:
Complete section on music theory
Rhythmic exercises for all types of musicians
3+ hour drum video instruction course
4+ hour guitar video instruction course (includes lessons from Jordan)
There are hundreds of MIDI files, Notation files, MP3 files, as well as video included!
Make sure to also check out the area called "Jordan's Riffs." In there, we present some of the most interesting sections from Jordan's recordings with Dream Theater, LTE, Rudess Morgenstein Project, and his solo work.
You will have access to completely accurate notation, while often even listening to an isolated mp3 file of a specific instrument.
In addition, you will also have access to an exclusive forum on Jordan's website, dedicated to Online Conservatory members. Jordan pops in on that forum once a month (or more often if time permits) to field a few quetsions.
The price for the online conservatory core is a $50.00, one-time fee for a life-time membership. Optional satellite courses instructed by colleagues of Jordan's are priced individually. Please see the sign up form for pricing details. There are currently no recurring fees for the online conservatory. Click here for a preview of the OC.